Sunita Dangol, deputy mayor of Kathmandu Metropolitan City (KMC), mentioned that the KMC Judicial Committee has not received any complaint from women with disabilities so far. Speaking at the orientation and interaction program on violence against women and girls with disabilities organized by Nepal Disabled Women Association (NDWA) in Kathmandu on August 22, Deputy Mayor Dangol informed that if any such cases will come to the committee, they will be given priority and justice will be served.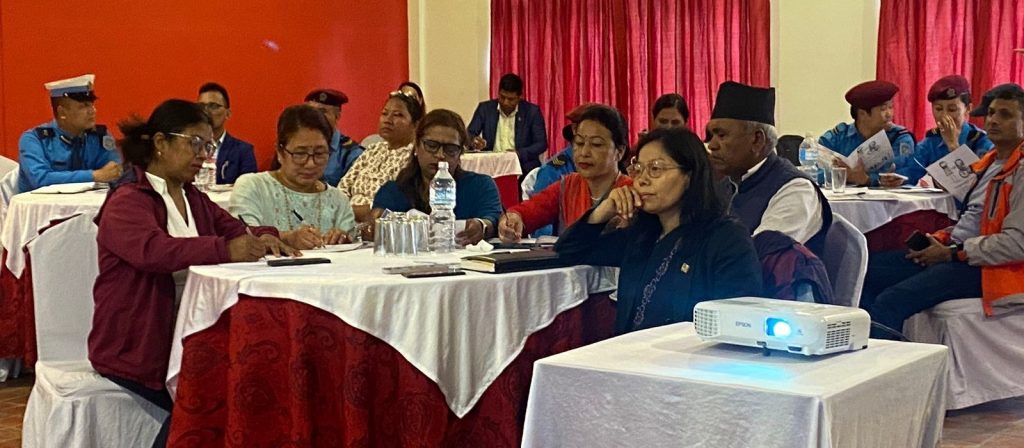 She said that a women's network has been established in all wards under the metropolitan city to provide quick and better access to justice for women. According to her, the network will facilitate cases of gender-based violence in the wards that do not have to come to the judicial committee, or cases of gender-based violence that go to the One stop Crisis Management Center ( OCMC) through the police, without coming to the judicial committee. She also informed that there is a policy in the metropolis to make the new infrastructures of the Metropolitan city disability-friendly and accessible.
Rabiraj Thapalia (Deputy Superintendent of Police, Kathmandu Valley Police Office) promised to issue a circular in 18 police circles under his office to improve the working style and treat persons with disabilities with respect and reduce violence against women with disabilities.
Sharda Thapa, Head of the Directorate of Women, Children and Senior Citizens under Nepal Police Headquarters informed that a case registration file has been created to keep the data of persons with disabilities and especially women affected by violence.
Suku Lama (Senior HN) from Paropakar Maternity and Women's Hospital OCMC (One stop Crisis Management Center) said that women with disabilities are at higher risk of violence, and it is especially challenging to rehabilitate them. She shared that not all OCMCs are disability friendly. There is lack of proper support service to those with disabilities, esp. to women and girls with intellectual or hearing disabilities. These even create problems when providing counseling services for these women due to lack of sign language interpreters.
NDWA had organized this orientation and interaction program for Nepal Police working in Kathmandu, employees of Women, Children and Senior Citizen Service Center under Nepal Police, Women Development Branch under Kathmandu Metropolitan City regarding gender based violence against women and girls with disabilities. Thirty-three participants representing different service providers participated in the program.